Limited availability on 2 bedroom apartments.
Choose from a spacious two, three, or four-bedroom modern apartment that's fully furnished, with a private shuttle at your disposal to make getting anywhere a breeze.
At Merced Station, live without limits. Enjoy a study session on your balcony. Take a dip in the resort-style swimming pool. Gather in the Clubhouse on Friday nights. At Merced Station, great living takes center stage.
You'll love being right in the heart of an outdoorsy community, giving you the opportunity to explore on weekends while keeping you conveniently close to the University of California Merced. This Station residence is your ticket to a community that has everything you'll ever need with the ease and peace of mind of individual leasing and full maintenance staff.
Enjoy 900 to 1,700 square foot Merced apartments for rent, fully furnished and equipped with energy-efficient appliances and electronic apartment entry. With shared room options, you're able to enjoy some social time when you want..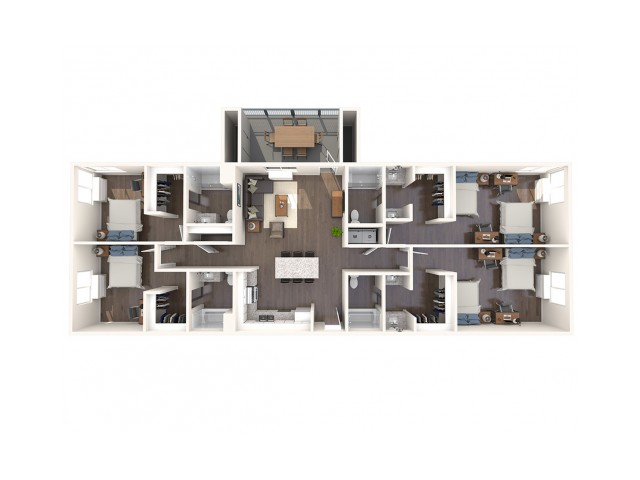 Leap Rent's product provides an additional avenue of qualification at Merced Station. Apply via Leap Rent today to see if you qualify!
No other place gives you access to resort-style pools, fitness centers, private bedrooms, and proximity to campus and the outdoors like Merced Station apartments. Welcome home, we know you're going to love it here.
"My sister and I took a tour with our friend Diana. The place was absolutely beautiful. I cannot express how much these apartment exceeded my expectations, from the rooms itself, the lobby, pool, gym and so much more. Everything is so easily accessible especially for attending students. Great place and would recommend 10/10 " – Google Review
"The space is perfect in the apartment, the amenities are a great plus like the gym since the gym is so packed at UC Merced, the pool and basketball court is very fun to use, and even the outside fireplace stove area is very nice, and the overall atmosphere is very chill." – Modern Message Review
"After the winter break, this place was a sight for sore eyes. I absolutely loved that the area seemed exceptionally clean, given the past storms. Great housing office and a pristine living area." – Google Review
"I had some questions about Merced station since I am looking into living there. I called the phone and Melanie answered all my questions and concerns that I had about the leading process and apartment layouts. She was very friendly and made me feel welcome with her words and personality." – Google Review
With a private shuttle that takes you right to the UC Merced campus and quick access to bus lines, your time here is made easy. Have a hankering for some Taco Bell or Five Guys? We've got that close by too.
Get a glimpse into the fun and exciting life at Merced Station. Give us a follow while you're there!